Welcome to Sport Yorkies
This is a website devoted to to the exuberant Yorkshire Terrier and our agility training programs. We have years of experience bringing these lovable little high-energy bundles of fur to a well-trained and directed level of working obedience.
Spud is one of our super Yorkies, and stud dog. He is 3 years old. He started his agility career in the Fall of 2012.  Spud is our littlest and youngest competing Agility dog. He is 7 1/2 inched tall and weights 4 1/2 pounds. He has a Novice Agility, Novice Agility Jumpers, Open Standard titles. Spud is getting ready to start in the Conformation ring the Spring of 2014.
Gizzy is the biggest-little athlete you will ever meet, he is easy to live with, travels great, and is cuddly. He is one of the best Agility Yorkies in the Northwest. He started competing when he was three years old, he turned seven in May 2013.
His AKC titles are Novice Agility Fast, Novice Agility,Novice Agility Jumpers, Open Agility Fast, Open Agility, Open Agility Jumpers, Agility Excellent, Excellent Agility Jumpers, Master Agility Excellent, Masters Excellent Jumpers, and Canine Good Citizens. He is working on his Master Agility Championship (MACH).
Gigit is one of our sweetest Yorkies. She was born November 2, 2012. She is a beautiful little girl. She is learning basic obedience, come, sit, down, stretching, left, right and balancing on a wobble board. She is one of AKC's newest recognized Yorkie colors. She is a Parti Yorkie.
Kyanne,  born March 17, 2013, she  is a Parti Yorki.  She is very sweet and endearing. She loves everybody and is fearless. She and I have a lot of fun learning tricks and playing on the agility coarse. She weights in at a big 3 1/2 pounds, just barely big enough to make a teeter go down. She love to run and play.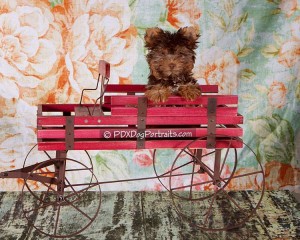 Pine, born March 3, 2013 is a Chocolate Yorki, she is happy go lucky.  She is very cuddly and and lovable. One of her favorite activities is to watch dog or horse video's on the computer or TV.
Tia is the most wonderful Yorkie I've ever trained. Her birthday is November 28, 2012. She loves learning new things and is is always ready to play agility. She is always looking to learn something new.  She is working on learning weave poles and will be ready for competition next winter.  She is a very elegant and refined yorkie.
Koi is our newest addition. We have big plans for this cute little cuddly Chocolate Yorkie. His birth date is July 19, 2014. I am taking him to handling class where he is learning all about the conformation ring. Joel has started him on some basic agility exercises. He is so smart, very cooperative, and lovable, you tell him once and he remembers.
---
Sport Yorkie Updates
Oliver loves his new family … Continue reading →
Lazer and Zorro are  $800 and Tiny is $1000 … Continue reading →
 Pluto is  available, S1000. He will all be 5 pounds when mature. He is a  Parti and Chocolate carriers. Beautiful conformation and gorgeous head. This pup is ready for the … Continue reading →
Left to right Mercury(female), Pluto(male), and Jupiter(male) All these pups are available. … Continue reading →
We have named them after Planets, because they are out of this world cute! Pluto(boy) will be 3 to 3 1/2 pounds,  Jupiter(boy) will be 4 1/2 to 5 pounds. … Continue reading →