Welcome to Sport Yorkies
Yorkshire Terriers, often referred to as Yorkies are some the most exuberant fun loving dogs in the world. We have devoted the past 10 years training and breeding Yorkie for agility, companionship and cuteness. We start training Yorkies when they are puppies and teach them to be fearless and confident little Yorkies. We are located in Washington State. Providing breeding and training for Washington and  Oregon state in the beautiful Columbia Gorge. We breed for intelligence, Health and Beauty. We love the beautiful Chocolate Yorkies,  breeding for deep rich Chocolate color, as well as the beautiful Parti Color Yorkshire terrier, we are striving for the most beautiful Yorkie colors we can get. We DNA all our breeding yorkies with AKC and also get Color DNA done on them to provide us with with information to breed beautiful Chocolate Yorkies and Parti Yorkies. We have Yorkie puppies available several times a years.  Our years of experience have brought many of  these lovable little high-energy bundles of fur to a fun level of working agility, which also makes a beautiful, happy, confident Yorkie in the conformation ring.

Spud was one of our Super Yorkies, and stud dog. He was a conformation Champion and also has an Agility Career.  Spud is very fast, and  he love agility.  He is 7 1/2 inched tall and weights 4 1/2 pounds. He has many Agility titles;  Novice Agility, Novice Agility Jumpers, Open Agility, open Jumpers with weaves, Excellent Agility and Excellent Jumpers with weaves titles.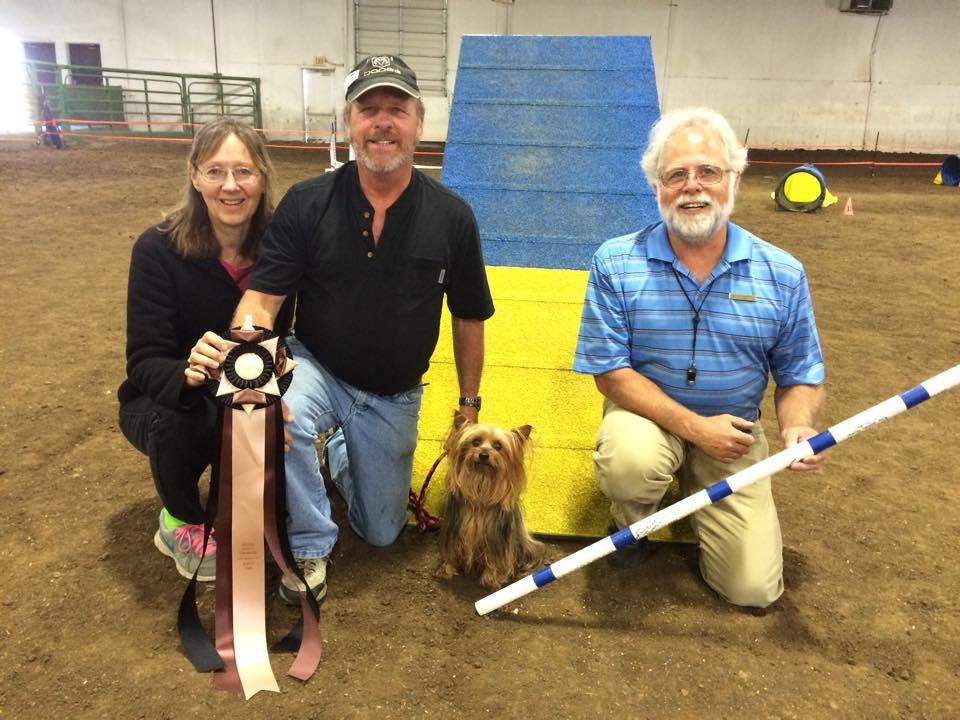 Gizzy is a Master Agility Champion, he is the best little Yorkie athlete in Washington and Oregon States .  He started competing when he was three years old, he is 9 1/2 and still awesome fast the Agility Courses. His other AKC titles are Novice Agility Fast, Novice Agility,Novice Agility Jumpers, Open Agility Fast, Open Agility, Open Agility Jumpers, Agility Excellent, Excellent Agility Jumpers, Master Agility Excellent, Masters Excellent Jumpers, and Canine Good Citizens. He is also in my husbands bird hunting dog.
Gigit is one of our sweetest Yorkies. She was born November 2, 2012. She is a beautiful little girl. Gigit is a wonderful mamma dog and has gorgeous parti Yorkie puppies. She loves agility and love to work. She is one of AKC's newest recognized Yorkie colors. She is a Parti Yorkie.
Scarlet Red,  Is our beautiful little Red Yorkie. Her beautiful color comes from a combination of Yorkie DNA she got from her Daddy and Mamma.  She is very sweet and endearing.  She is going to have some fantastic colorful yorkie pups.
Pine,  is a Chocolate Yorkie, often know as a "little Yetti",  Her favorite past time is to run with German Shepherd dogs and boss then around, she has know idea that she is a little Yorkie. She is happy go lucky.  She is very cuddly and and lovable. She is a beautiful  mamma dog and produces beautiful color.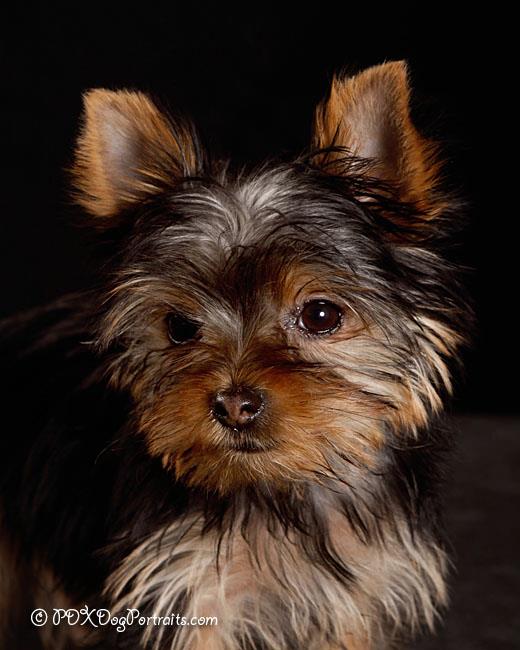 Tia is the most wonderful Yorkie I've ever trained.  She loves Agility competition, doing tricks, loves people and dogs. She is every ones best friend.  She loves to work and is faster that lightening.  She is a very elegant and refined Traditional Yorkshire terrier. She is my close companion and work buddy.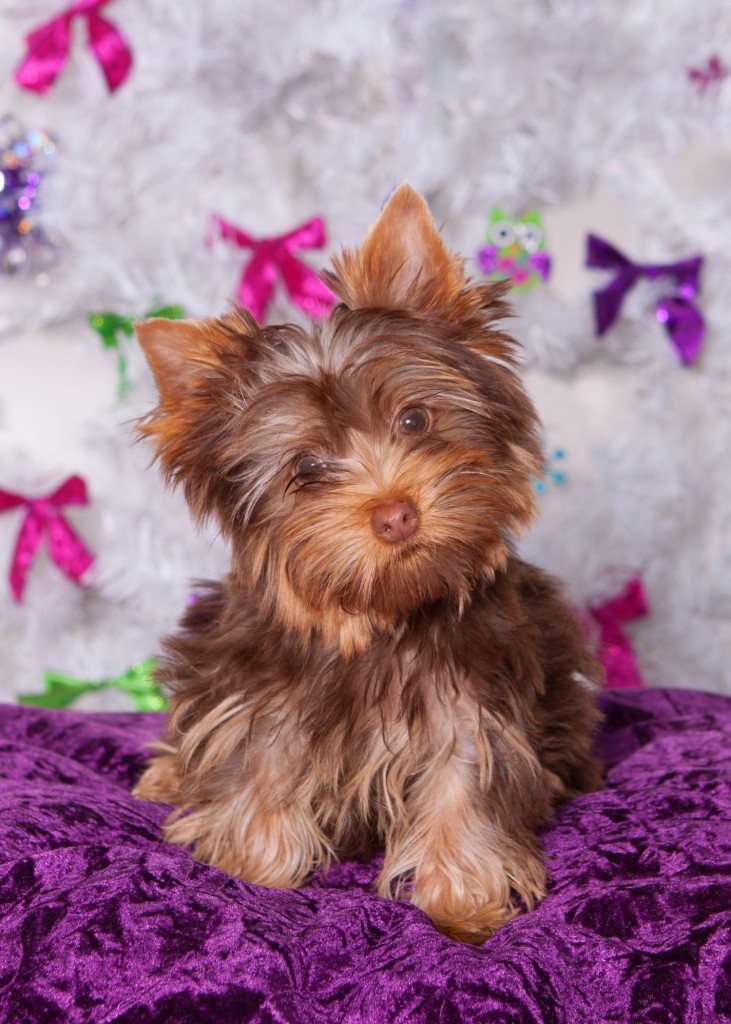 Koi is our wonderful Chocolate Yorkie and Stud dog. He is very elegant and charming. He will steal your heart. He is the father of many of our litters and passes on a sweet and intelligent disposition.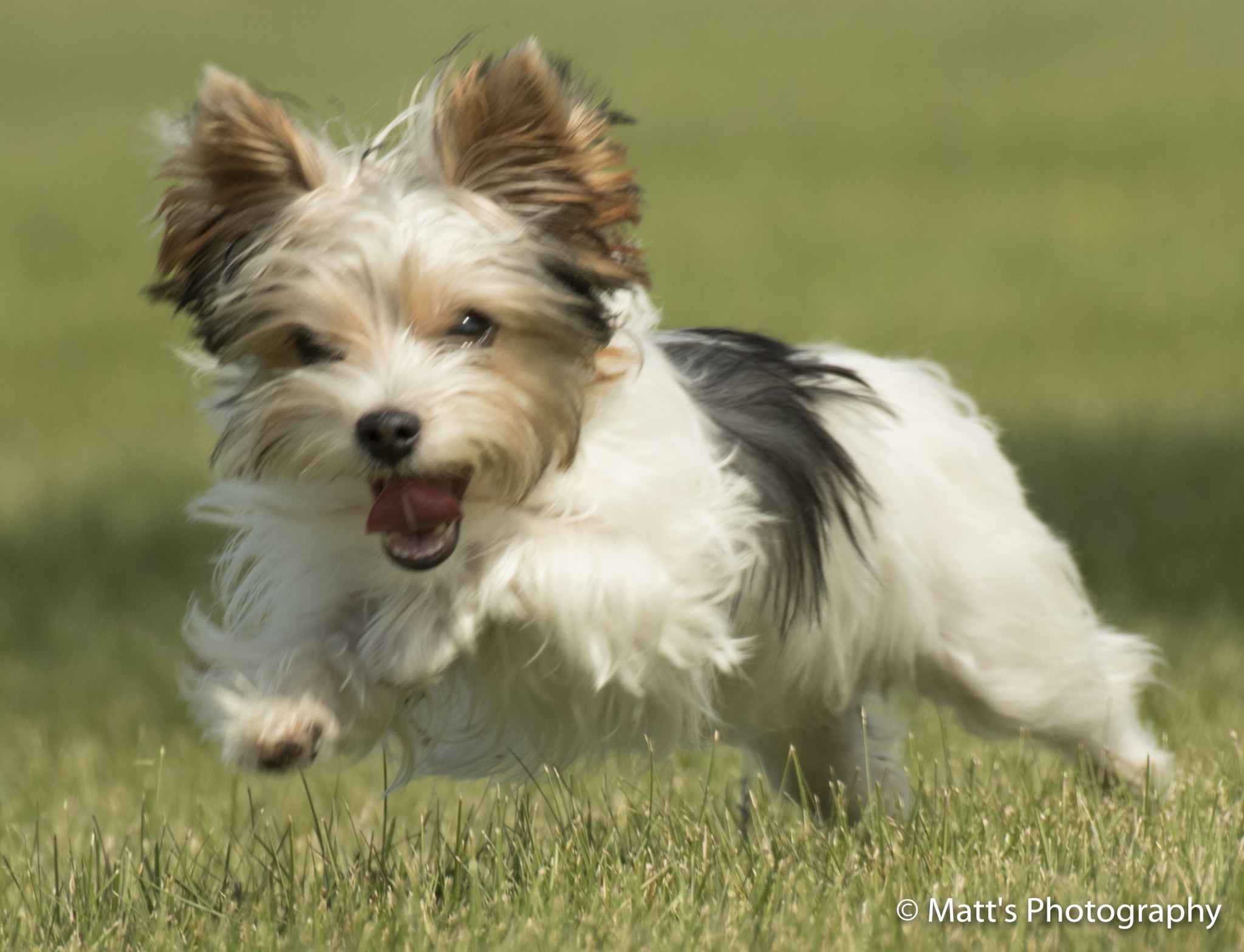 Snickers is an absolutely Gorgeous Parti Yorkie, she loves agility, she is very smart, easy to work with. She loves Agility training, as well as obedience and of coarse she is a very cuddly Yorkshire Terrier. We are looking for to some Parti Yorkies out of her.
Peaches is our Golden Yorkie beauty, She is very sweet and lovable. Her coat is silky and shiny, she is a cuddle bug. Her puppies are all gorgeous and have beautiful temperaments.
ELF, there are no word to tell how adorable this Yorkie baby is, she is beautiful, wonderful personality, smart, and cuddly. Watch her grow into a beautiful Chocolate Yorkie.
Sport Yorkie Updates
Tia and Barb are an amazing team. Tia got her Novice Standard title in November and are moving up to Open Standard Agility. They only need one more qualifying run to … Continue reading →
Tradititional little boy, loves to be held. Will be little … Continue reading →
Out going, sweet, cuddly, precious … Continue reading →
Adorable, small, beautiful, cuddly Carmelo, chocolate blonde Sable … Continue reading →
Calypso is a sweet cuddly blonde Chocolate male. … Continue reading →
I am going to miss this baby girl. I love her! … Continue reading →
This little AKC Chocolate guy is so much fun, he has personality Plus, He is out going and loves to play. … Continue reading →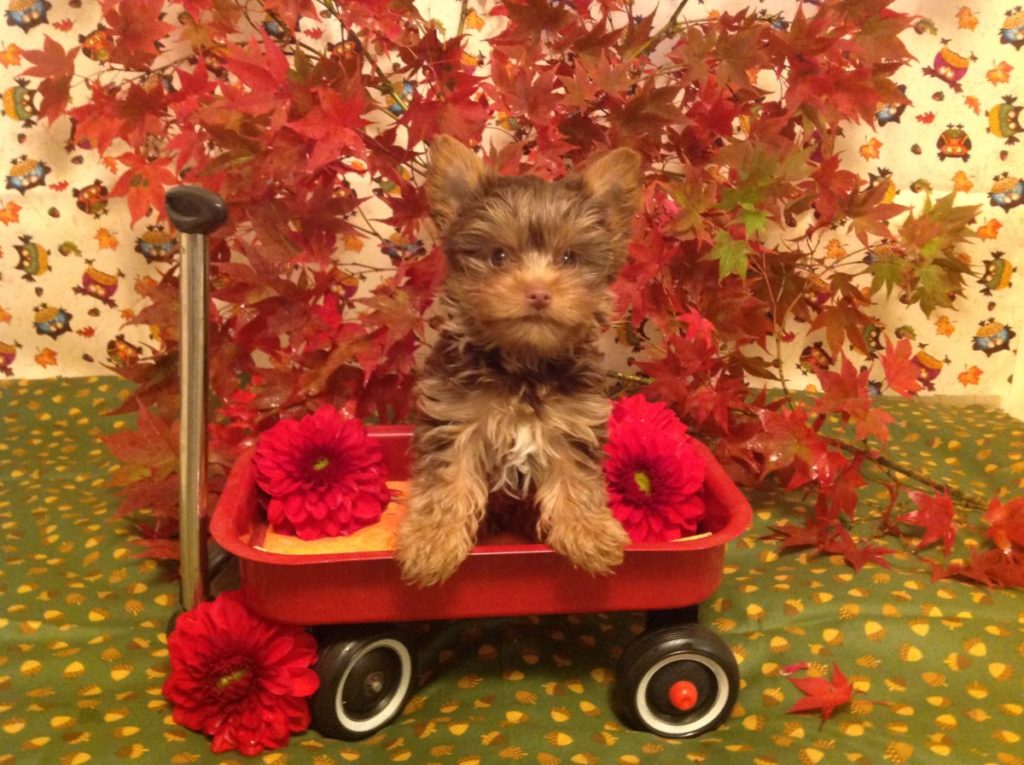 Randy is a beautiful Chocolate male. AKC registered. Very sweet, cooperative. … Continue reading →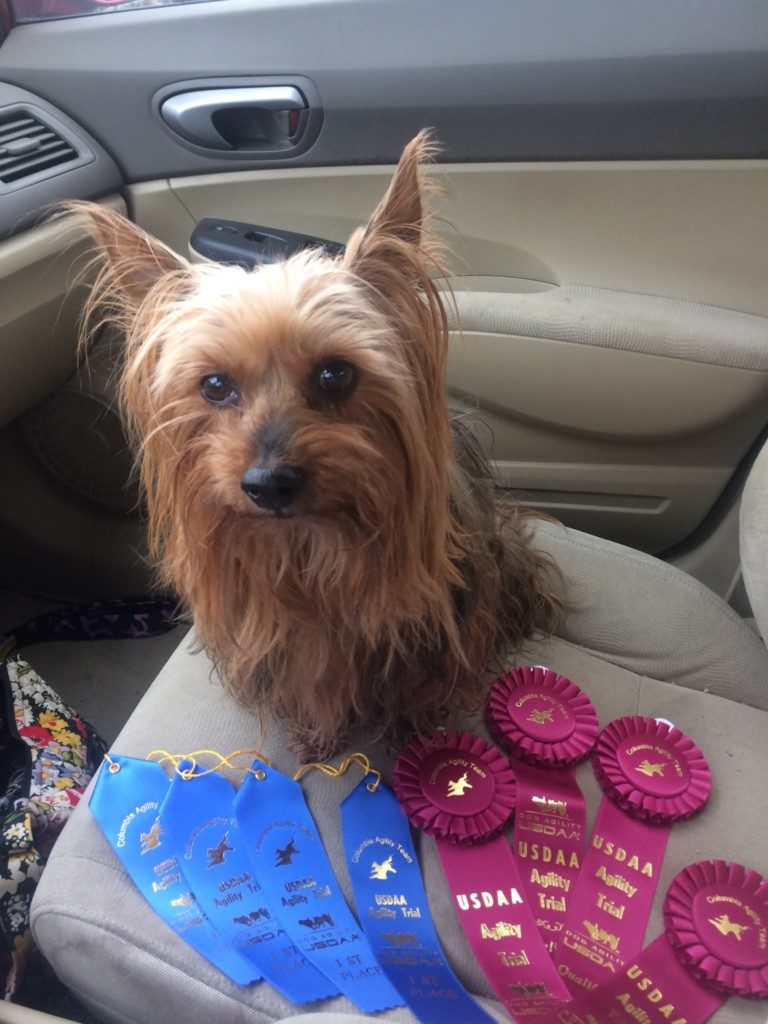 Gizzy and I teamed up with Connie and Beanz last weekend for a USDAA Agility trial on 10-7-16. And look what he came away with. Love this boy. He is … Continue reading →
Gazoo is 4 pounds of beauty and cooperation.  He has an outstanding personality and is in training to be one of our competing agility dogs.  He is Blonde Chocolate, has … Continue reading →
Betsy lives with Thida and her best buddy Lewis … Continue reading →
Little Buster has a wonderful family in Wenanchee WA with Matt and Heidi's family … Continue reading →
Little Boy, date of birth May 9, 2016. Very small boy, very lovable and sweet. Chocolate carrier $1000 … Continue reading →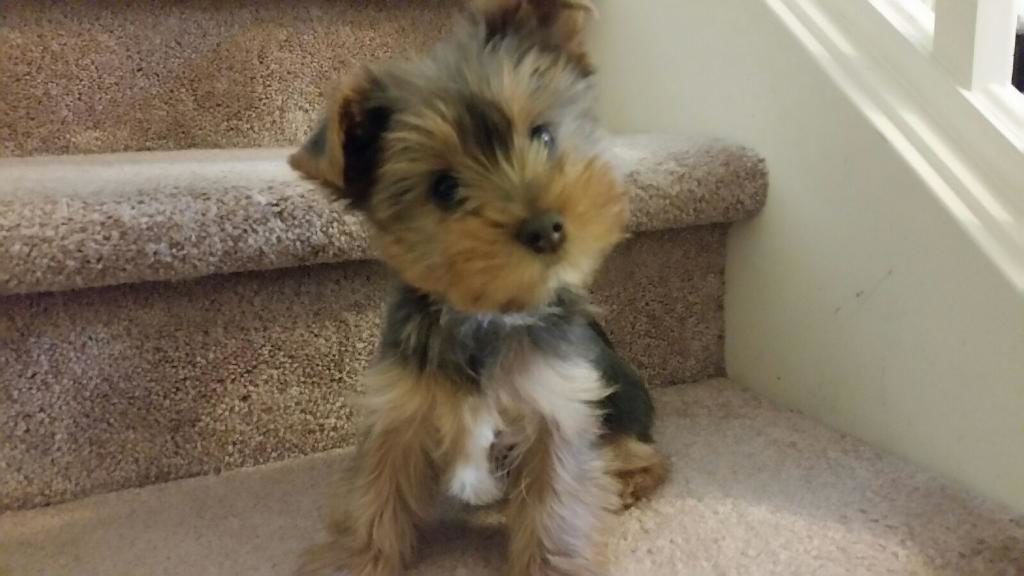 Georgie  … Continue reading →